Brick Street Creative handles all things design from logos to brochures — from branding to websites and everything in between. We can create a complete marketing theme that has continuity and becomes your identity. Whether working for a Fortune 500 company or a new start-up, we help our clients meet their business goals with strategic design.
We believe that graphic and web design is best when it is simple, honest and straightforward. We work with heart; with coffee; with kindness; with ambition; with purpose; with integrity; with a nose to the grindstone-get-it-done kind of attitude; with people. We aim to crush expectations — both yours and ours.
BRICK STREET CREATIVE'S AWARDS and RECOGNITIONS
We are proud to be recognized by the Illinois Governors Conference of Tourism through work submitted by the Alton Convention of Visitors Bureau. Tourism Bureaus throughout the state were eligible and graphical pieces were juried by a panel of marketing and tourism professionals on clarity of message, creativity, originality and the project's overall success.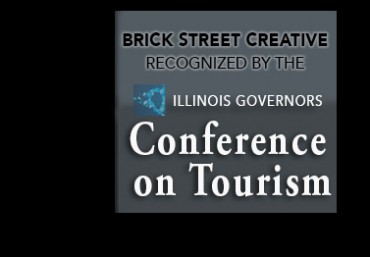 2007, "Eagle Watchers Guide"
Best Print Advertising Award & Best Public Relations Campaign
2008, "Great Rivers Roadtrips"
Best Newsletter
2009, "Autumn Adventure Guide"
Best Leisure Promotion
2009, "Destination All Around Alton Planning Guide and Tourism News"
Best Sales Promotion
2010, "Green Getaway Guide"
Best Leisure Promotion
2012, "The Road Trip Seasonal Guides"
Best Leisure Collateral
2013, "Great Rivers Country Eagle Watching Sites Brochure"
Best Visitors Publication
Celebrating 30 Years in Business.
---
Brick Street Creative • Alton, Illinois • 618.463.0811 • Award Winning Graphic & Web Design
Annual Reports • Announcements, Invitations, Cards • Advertising • Banners • Books • Broadcast and Multimedia Design • Brochures and Collateral • Calendars • Catalogs • Copywriting • Corporate Branding and Identity • Custom Ornaments • Event Promo Items • Guides • Illustration • Letterhead and Stationery • Logos, Trademarks and Symbols • Maps • Newsletters and eNewsletters • Packaging • P-O-P, Displays, Signs and Exhibits • Posters • Publication Design • Tourism Graphics • Trade Show Displays • Website Design & Hosting
PRINTING SERVICES: Annual Reports • Trade Show Signage • ID Badges • Luggage Tags • Appointment Cards • Indoor/Outdoor Banners • Books • Brochures • Business Cards • Calendars • Catalogs/Booklets • Digital Printing • Envelopes • Flyers • Sell Sheets • Formal Invitations • Journals • Label Printing • Letterheads • Mailing Services • Marketing Packages • Newsletters • Notepads/Memo Pads • Postcards • Posters • Programs • Promotional Products • Presentation Folders SPECIALTIES: Die Cutting • Embossing • Foil Stamping FULL BINDERY SERVICES: Saddle Stitch • GBC Binding • Coil Binding Sewn Hard Cover • Wire-O
Services
asdfasdf afasl sflsaj sdflsj sdfj fsdl fskj fsdf sdfkljsdf